Structural and miscellaneous steel for commercial, industrial, and marine projects.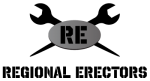 A regional specialist.
SERVICES – Regional Steel Products
We have a management team with a combined 150 years experience.  The men that work in our fabrication shop are dedicated to their craft as well as the highest level of quality. Our erection teams are lead by foreman who care about their team's safety and our customer's schedule. They are dedicated to getting the job done right the first time.